Knife Blade Finishes
Posted by MERCER INDUSTRIES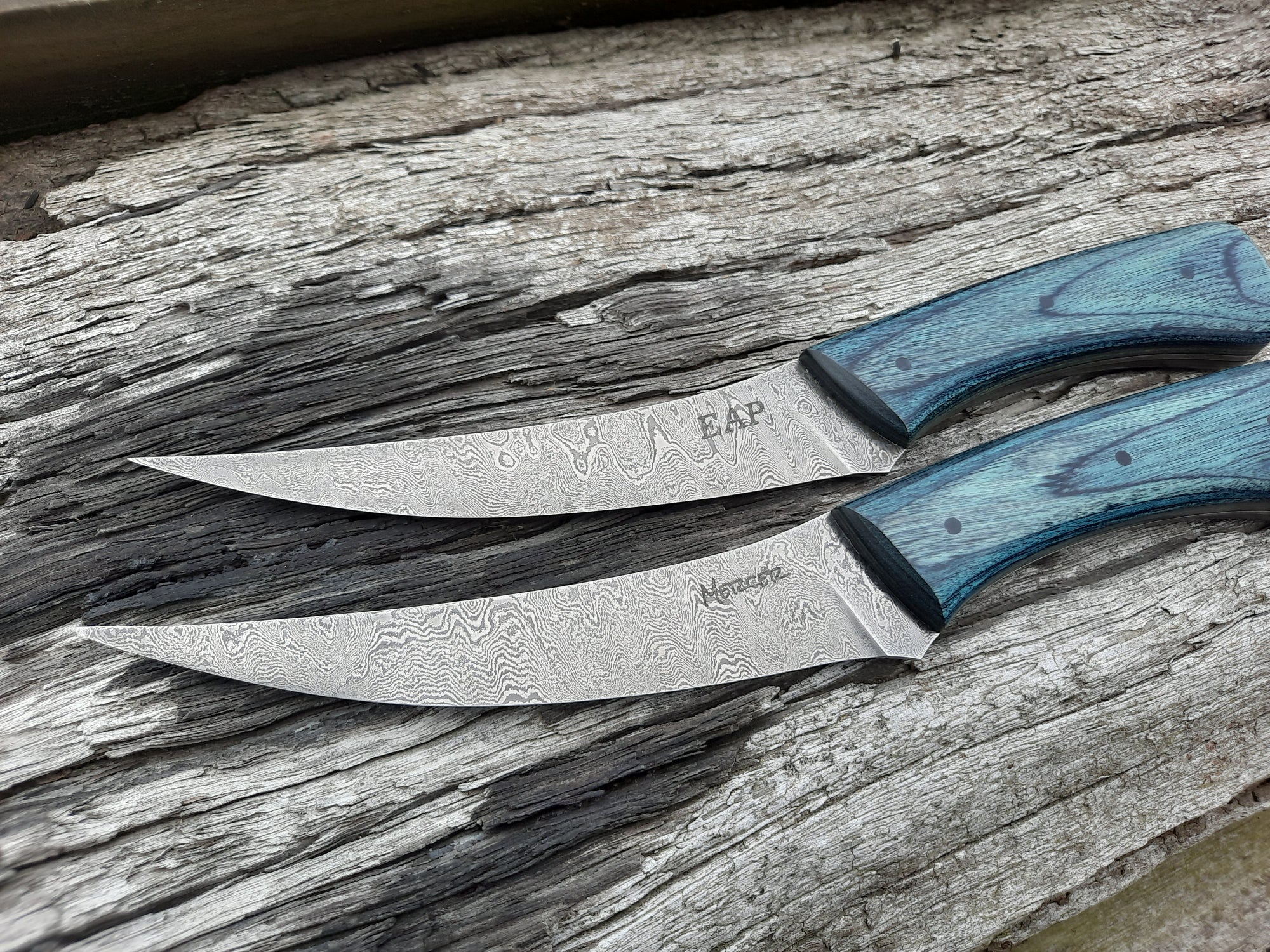 Knife Blade Finishes
Surface finishes on blades is the final stage before sharpening the edge.  It gives a knife its character and visual looks.  The surface finish of a blade knife influences the overall cost of a knife due to time.
The purpose of the blade finish stage is:
1)   Making the blade more durable, harder and resistant to scratching
2)   Improving the resistance to corrosion (rust and staining)
3)   Giving the knife a specific and/or unique look
There are a number of finishes; certain finishes are functional and can add strength or durability, some help knife resist corrosion, and some are just for aesthetic.  Each surface finish has its advantages and disadvantages; the finish should be considered on the practical use of the knife to help maintain its appearance and durability, not just aesthetics.
On high carbon steels, generally, the smoother the blade, the more resistant the knife will be to corrosion (rust and stains).  This is because rough surfaces using trap water and moisture a lot more than smooth surfaces.  As a result, polished (and reflective) blades are more resistant to rust or patina-formation.  Rougher surfaces, like blasted, will tend to be more prone to corrosion.
However, a stainless steel knife with a blasted or stonewashed finish on the blade won't have the same impact on the resistance to corrosion compared to a high carbon blade, which will require more maintenance.
Blade finishes are not the same thing as blade coatings.  Coatings on the surface of the blade are additional protection against corrosion.
Below we have described some different blade finishes:
Mirror Polish
A mirror polish finish is a high-end type of blade treatment completed by hand, polishing the steel until it gets a highly reflective surface.  Although it offers better corrosion resistance due to the smoothness of the blade, the finish requires a lot of polish to maintain its bright and reflective appearance.  The mirror finish can be easily scratched and It can be difficult to cover it or recover the original look.  Also, its reflective qualities are not always suitable in the field.  The amount of hours and skill to achieve this finish often results in an expensive blade.
Polished
A polished finish is polished extensively by hand but to a lesser degree and not as fine as with a mirror polished.  It is less reflective and offers great resistance to corrosion but can still scratch more easily.  It can be difficult to cover it or recover the original look.
Satin
A satin finish is semi-shiny and falls between blasted and mirror polish finish.  It involves sanding the blade in one direction with increasing degrees of fine abrasive (i.e., sandpaper).  The finer the abrasive, the more even the line.  At the end of the process the blade shows the buffing lines in one direction (generally along the length of the blade).  It is quite durable but will show scratches, especially if it's finished with a fine grit.
Brushed
A brushed finish is created by using an abrasive wheel.  The wheel creates a pattern of fine parallel lines and still has some reflective properties.  It produces a finish similar to a satin finish, but reduces the steel's corrosion resistance properties, because the abrasive wheel creates micro abrasions that are more prone to rusting in high carbon steel.
Blasted
A blasted finish is achieved by blasting high pressure materials against the steel (i.e., small glass or ceramic beads, or sand) resulting in micro-abrasions on the blade.  It has a rougher surface with a matte grey uniform finish that reduces glare and reflection.  It is often combined with a coating or with an acid wash, creating a additional oxidation later on the blade to protect the steel.
The blasting creates a larger surface area and the micro-abrasions make the steel more prone to rust and corrosion.  A blasted (high carbon) blade can rust if left exposed to a humid environment.  
Blacksmith's
A blacksmith's finish is relevant to forged knives and is prepared through not polishing off the black scaly residue formed during the forging process.  When the knives are exposed to tremendous heat and flames the iron on the surface oxidizes and turns black.  Its purpose is to minimize the reactivity of a carbon steel knife and reduce the risk of corrosion.  This finish can wear off over time, especially if you are using abrasive cleaning products.
Coated
A coated finish is most common in black, grey or neutral colours.  The coatings reduce light reflection and glare, while also helping to reduce corrosion and wear.  The coating finish can and will scratch off after heavy use and over time.  Before most coatings, the blade is blasted to create micro abrasions to help the finish stick and get into the blade.  Coated finishes prolong the life of the blade because they help resist corrosion and rust.  Some common coatings are Cerakote and Teflon. 
Stonewash
A stonewash finish is created by tumbling the blade in an abrasive material (i.e., small stones or other abrasive pellets).  This finish has essentially scratched the blade in every direction possible, so it easily hides scratches than can occur with use over time.  This blade finish is low maintenance and retains its original appearance for a long time.  It provides a less reflective glare than a satin or brushed blade.  The stonewash finish is combined with acid treatment, which results in a thin oxidation layer on the blade surface to boost the formation of patina and protect it from corrosion. 
Hammered/Textured
A hammered finish is produced during the forging process (either by hand or power hammer) by using a tool with a head of a certain size to incorporate some marks and dimples (a pattern) that is visible on the top part of the blade.  The finish is an aesthetic appearance and often hides the imperfections of a blade. 
Damascus
A Damascus/pattern welded steel finish looks like marbled layers of steel.  Each pattern is unique.  It is made by packaging different steels, heating and beating with hammer and anvil (or press).  Damascus designs are of highest quality.