About Us
Meet the Maker
Paul has been a maker of things since an early age. With an agricultural, engineering and building background, throughout his life he has used his spare time taking a raw product (largely wood and steel) and turning it into something usable.  
With a decent amount of prior metalworking experience, his blacksmithing and knife making journey began in late 2018.  Still young in the craft, he has been experimenting with designs, techniques and material processing, to develop his own pathway and style in forging and knife making.
As a hobbyist craftsman he takes great pride in his work; nothing leaves the workshop unless he is completely happy with not only the finish and overall appearance, but the quality and longevity of materials and methods used.  He has great technical ability, practical skills and creative design skills, and he enjoys challenging himself.  Personal growth and expanding creativity while keeping the products practical and usable is a large part of his goal as a craftsman.  
Paul strives for a high level of customer satisfaction and sense of enjoyment from using/owning a hand-crafted product that will last for generations.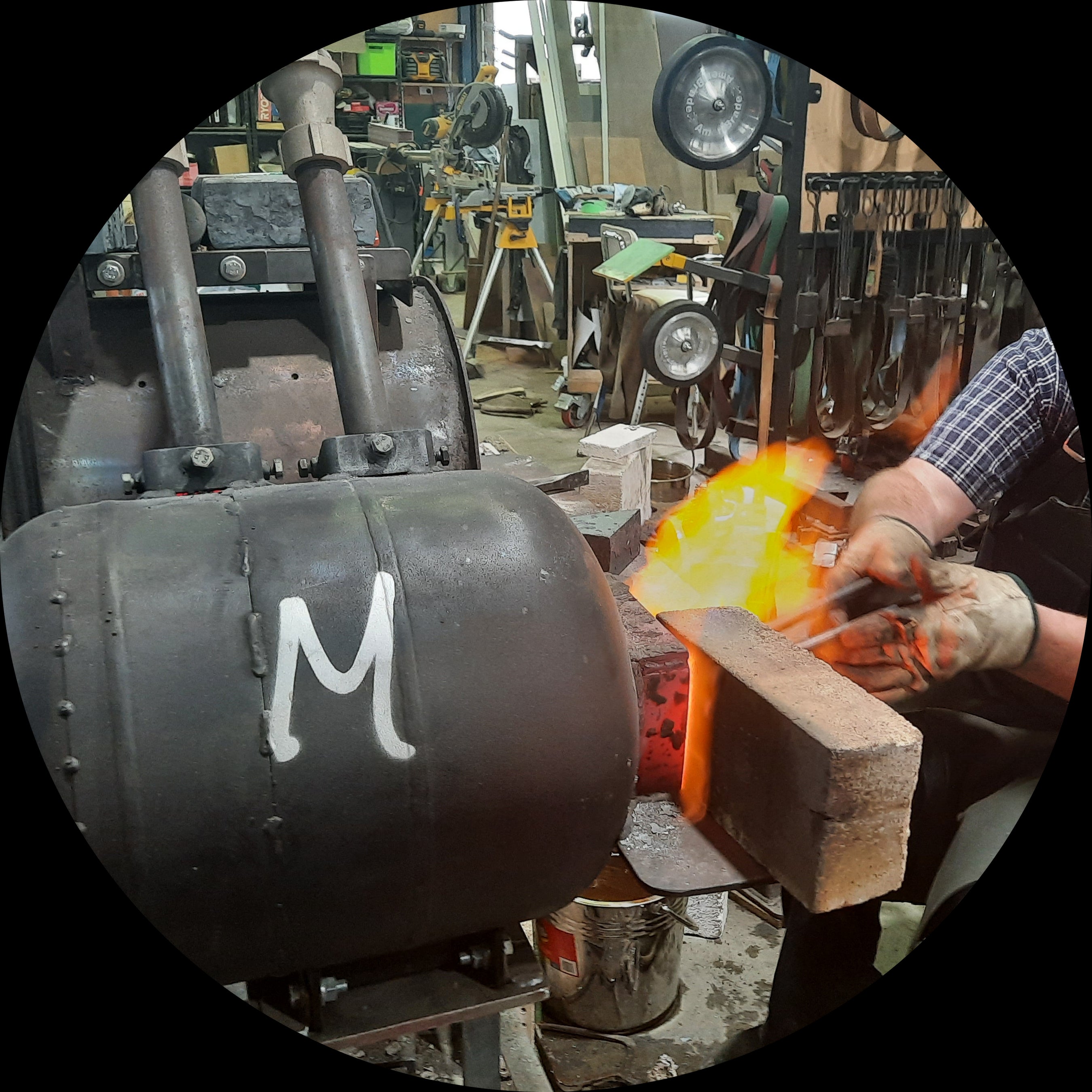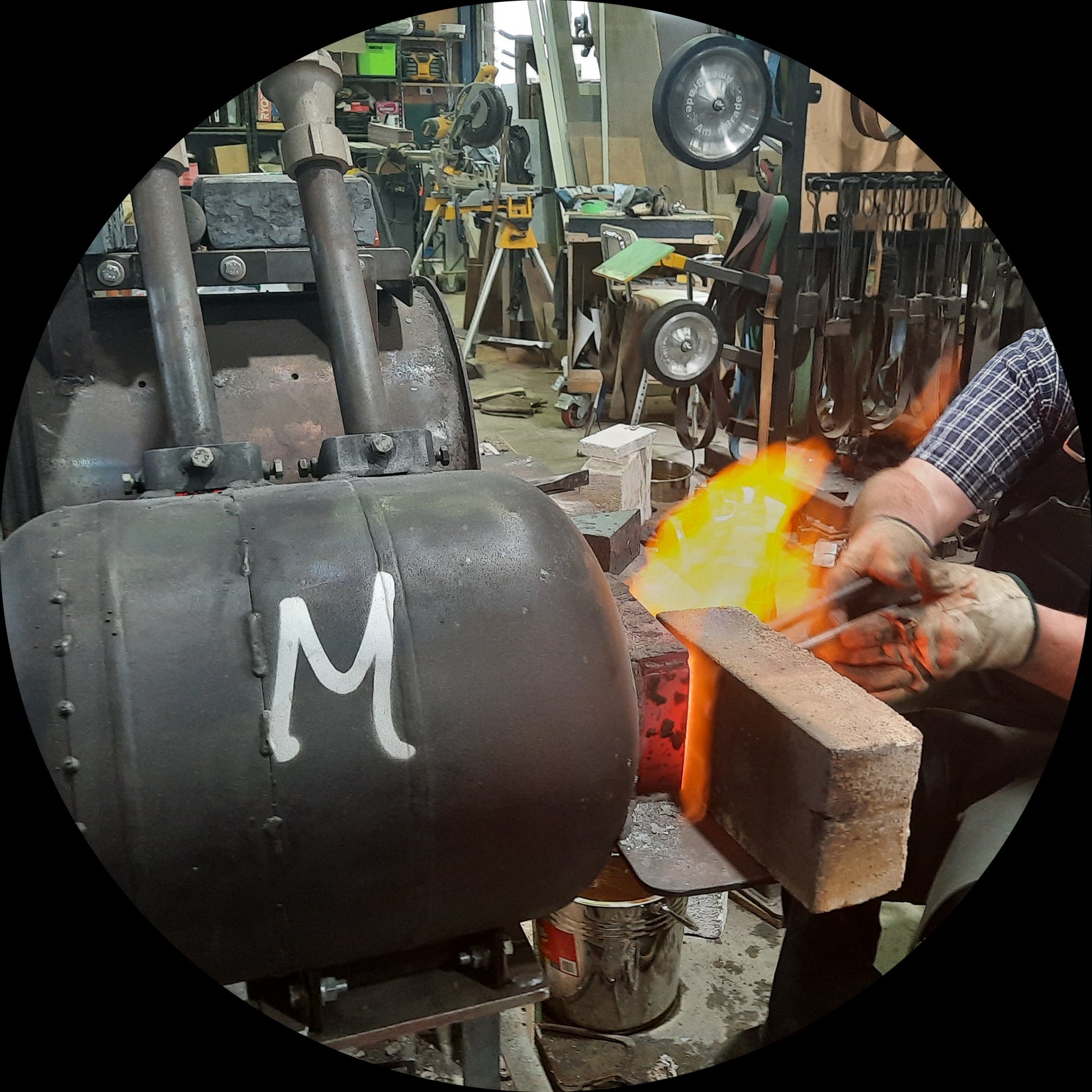 What We Make
We craft axes, hatchets, knives, hammers and tooling - largely anything else Paul decides to put his mind to! 
All items are handmade on site here at the workshop and sold as they are.  Each item made is a little different to the next, even if it is ever so slightly.
Everything is undertaken in our workshop - from engineering, machining, forging through to grinding, heat treating, handle making, timber stabilizing and leather work.  Our products are not a result of machine output.  Rather a piece of art that we have crafted, controlled by hand.
While we strive to make our items perfect, some minor imperfections can occur.  If an imperfection is present (i.e., tool markings on forgings) these are only surface blemishes and are unique qualities that will not affect the usability and performance of an item - they are not considered defects.  
Please feel free to look through the online shop of products and our gallery of past works for inspiration.
If you have a question on an item available in the online shop, or would like to discuss a custom creation, please feel free to contact us for more information.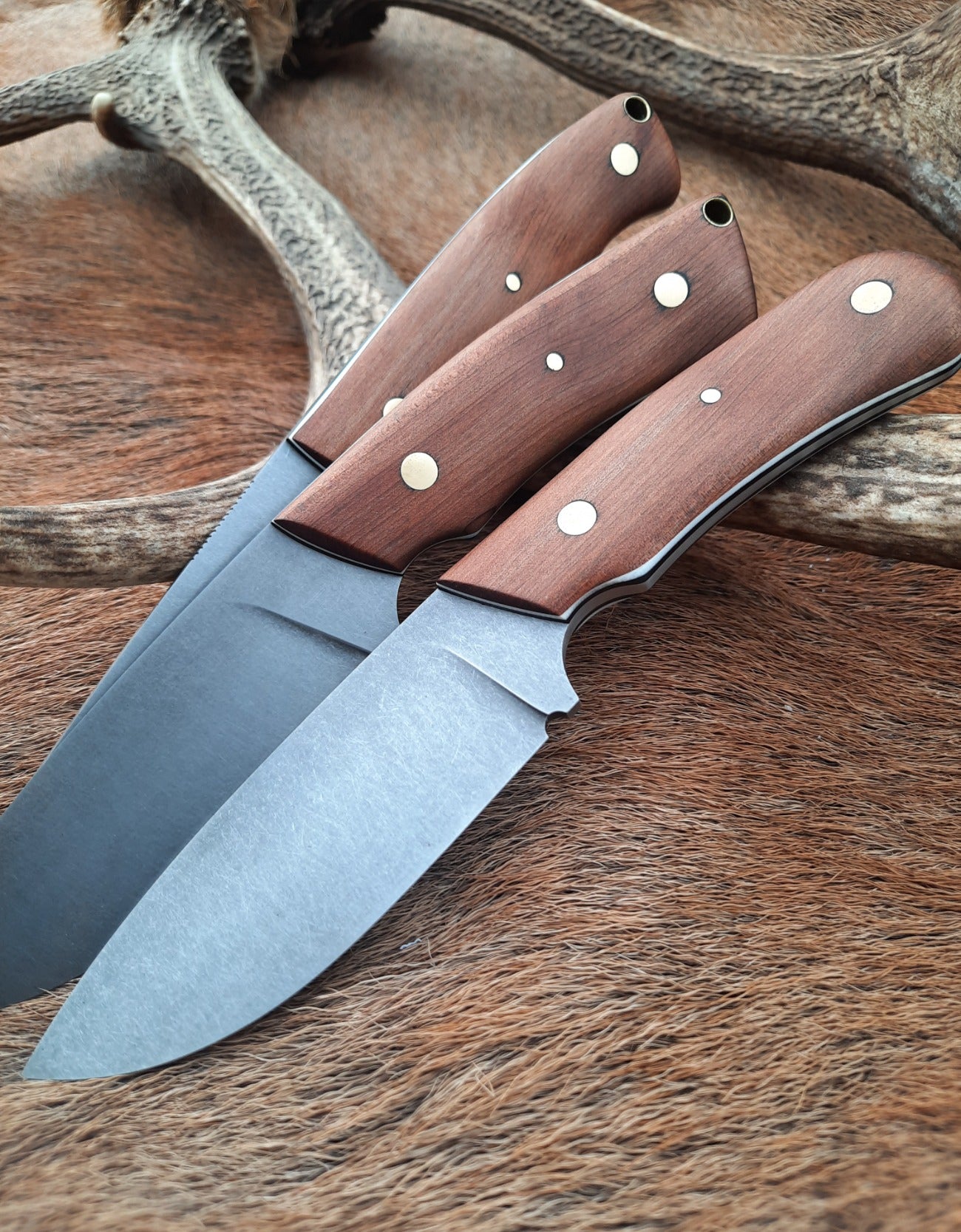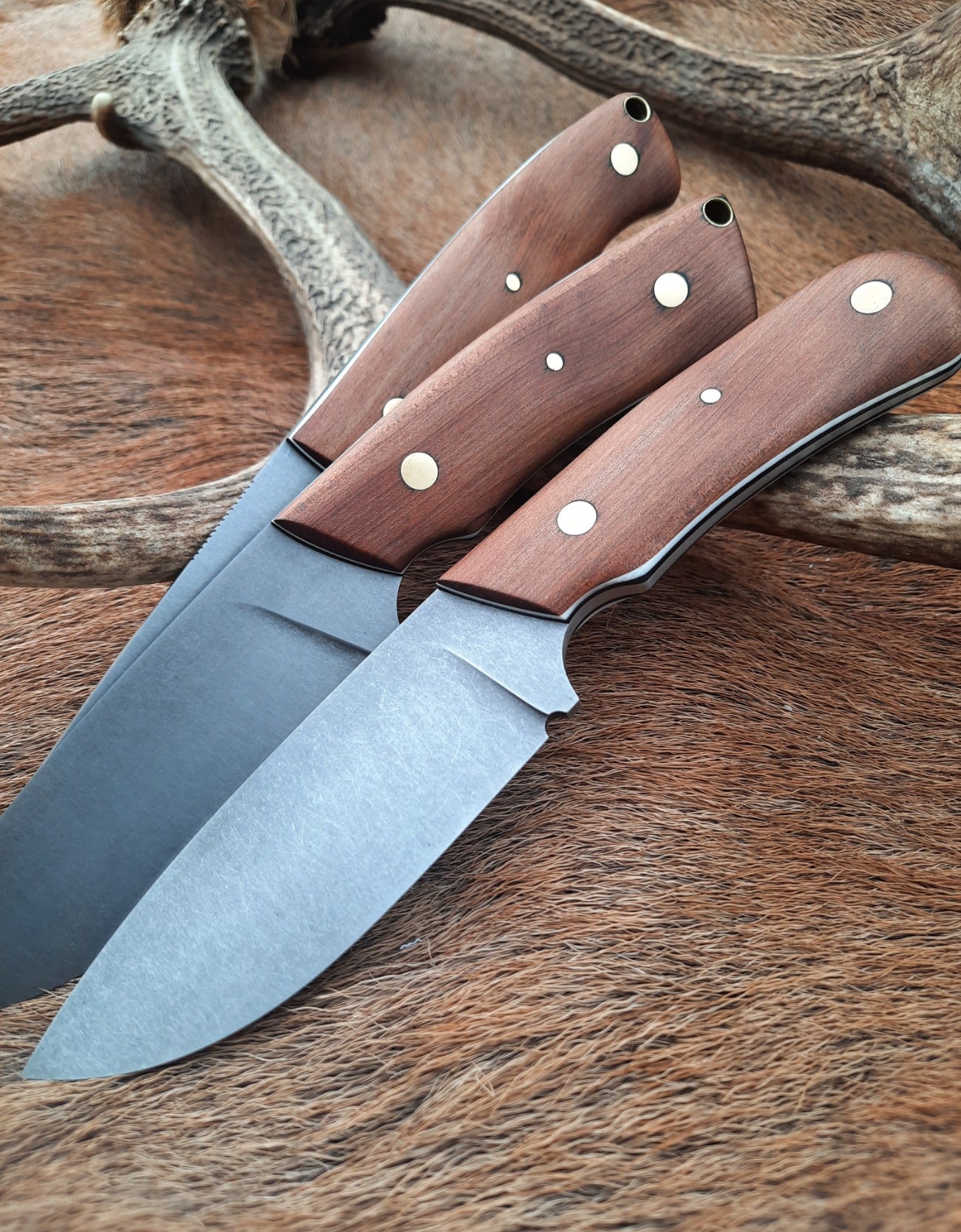 Knives
Our knives are handmade. While we can make a knife similar to another we have made previously, no two knives will ever be exactly the same.  We take custom orders for knives and can make a knife to suit your purpose and own personal preference.
The process for making knives generally begins by cutting the steel to shape, or occasionally they may be made by heating the metal in the forge and hand shaping it using hammer and anvil.  The grinding to refine the shape, then hardening and tempering takes place next.  Once heat treated, final clean up and grinding takes place, and the blade is taken to the desired finish.  Handle material is fitted, shaped and final finishing and sharpening follows.  Then in the case of a Damascus blade, we make the Damascus steel in our workshop too.  
We craft handles using a range of materials including G10, micarta, acrylic, timbers from New Zealand native to international tree varieties, bone, horn and antler (subject to availability of the material).
We make leather sheaths for our products.  Unless specified as included with a knife, these can be purchased separately from our online store.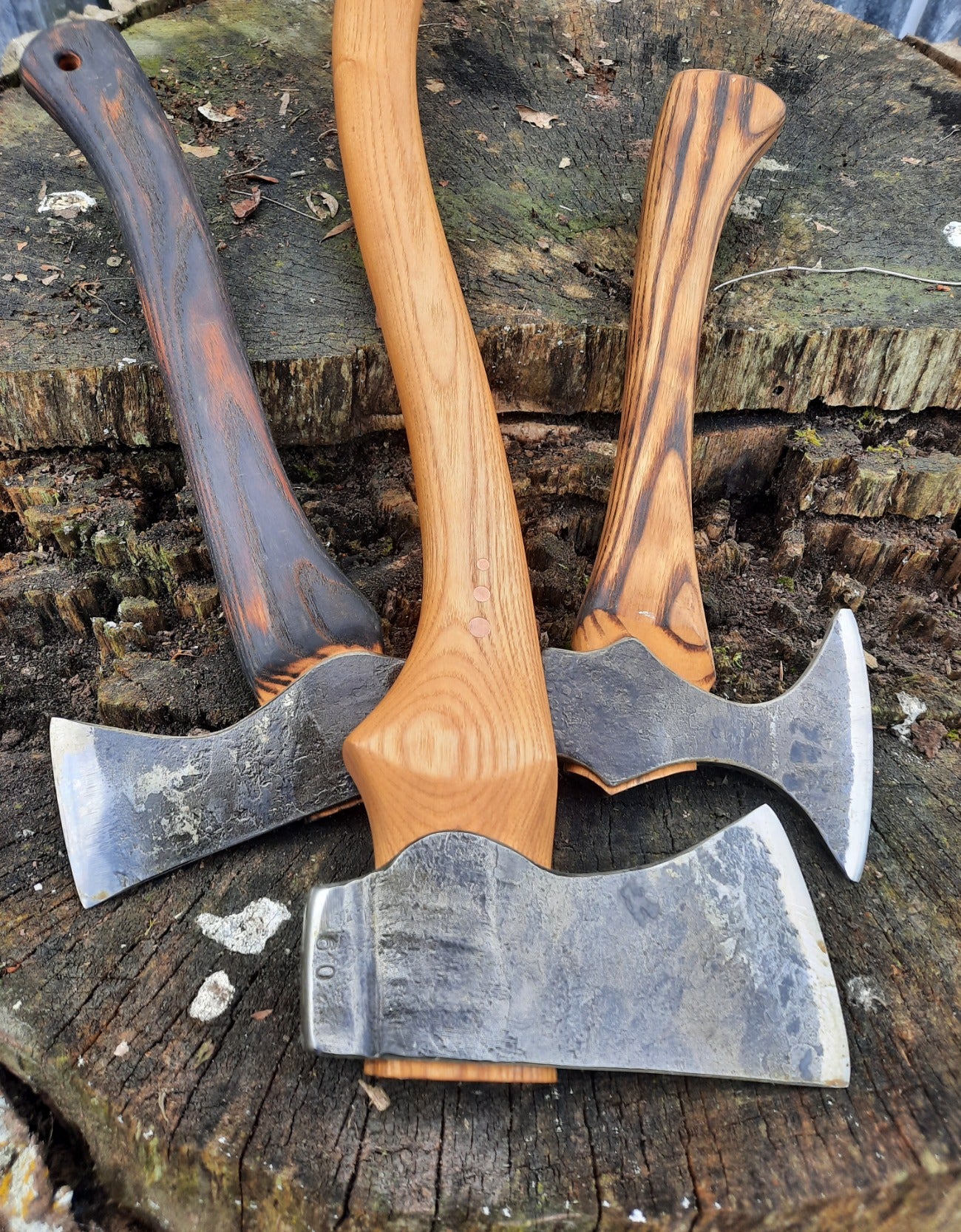 Axes & Hatchets
Our axes and hatchets are handmade, crafted ready to perform and to endure for years to come. They are forged by hand from medium to high carbon steels using both traditional and modern techniques.
The axe is one of mankind's oldest tools and therefore comes in all sorts of shapes and sizes. When making your choice, it is important to decide what the axe will be used for.  Please make contact with us if you need guidance.
The process for making axes and hatchets begins by using a combination of a press and hammer to manipulate stock shape and size, as a starting point.  Then punching, drifting and stretching and pulling the steel into the desired shape will yield a rough forged axe head.  Once satisfied with the work, the logo is hammered into the cheek.  An initial clean up grind takes place, heat treating involving thermocycling, quenching and tempering, then final grinding, handle and sharpening.  Each blade to proudly display its forging marks. No two pieces are exactly alike.
We make leather sheaths for our products.  Unless specified as included with an axe or hatchet, these can be purchased separately from our online store.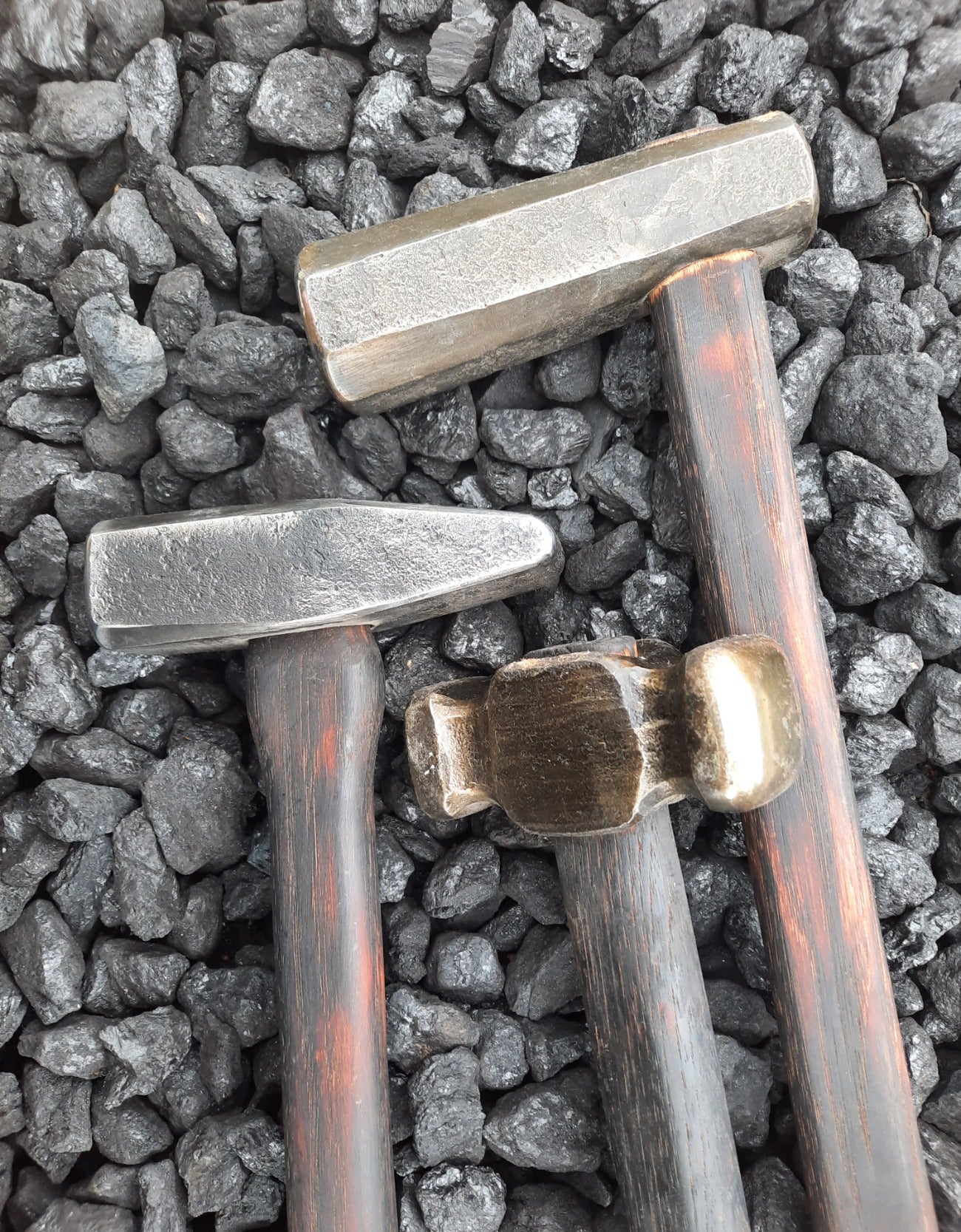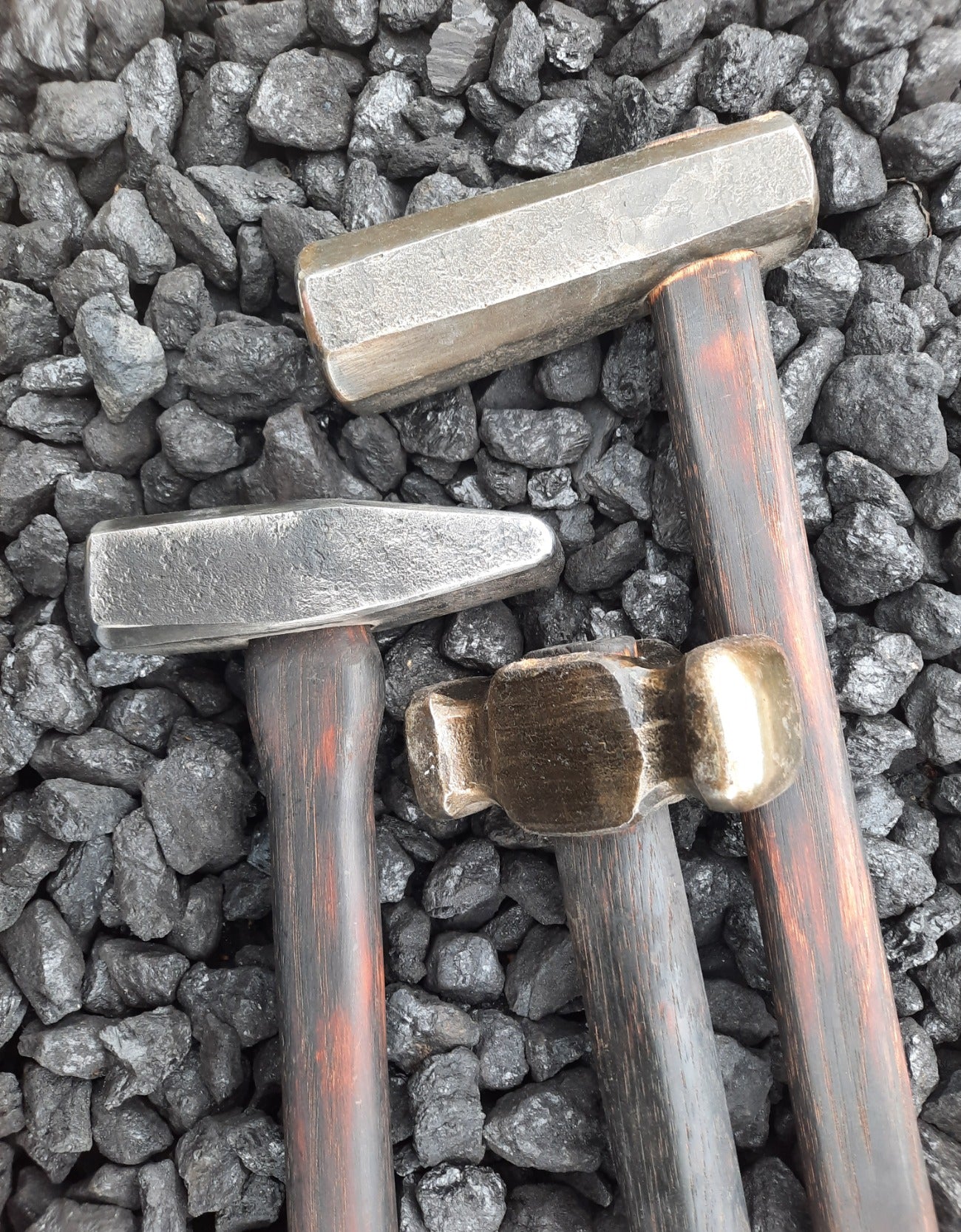 Blacksmith Tooling
Our blacksmith tooling consists mainly of forging hammers.  These are available in a variety of head shapes and weights.  Hammers are forged from 1045 steel, normalised three times, water quenched and oven tempered.  The faces are polished (makes them look pretty but really is a waste of time as that's gone on first blow!).  
They are fitted with hickory handles (either in natural or charred finish). Our dog head hammers have canted eyes to tilt the head at an angle.
The head and handles are soaked/coated in linseed oil.  
Keep in mind that the heaviest hammer may not be the best hammer.  Larger hammer heads allow you to deliver more force towards your target, which is great for quickly working a piece.  There is a catch however, your hands and arms must also now deal with the increased force.
Although we craft a lot of hammers, blacksmith tooling is not limited - we also can make tong blanks, hardie hole tools and handled/struck top tools.  Please enquire if there is something that you are looking for.