Bushcraft Knife 'Purpleheart'
Posted by MERCER METAL CRAFT & EDGE WORKS ADMIN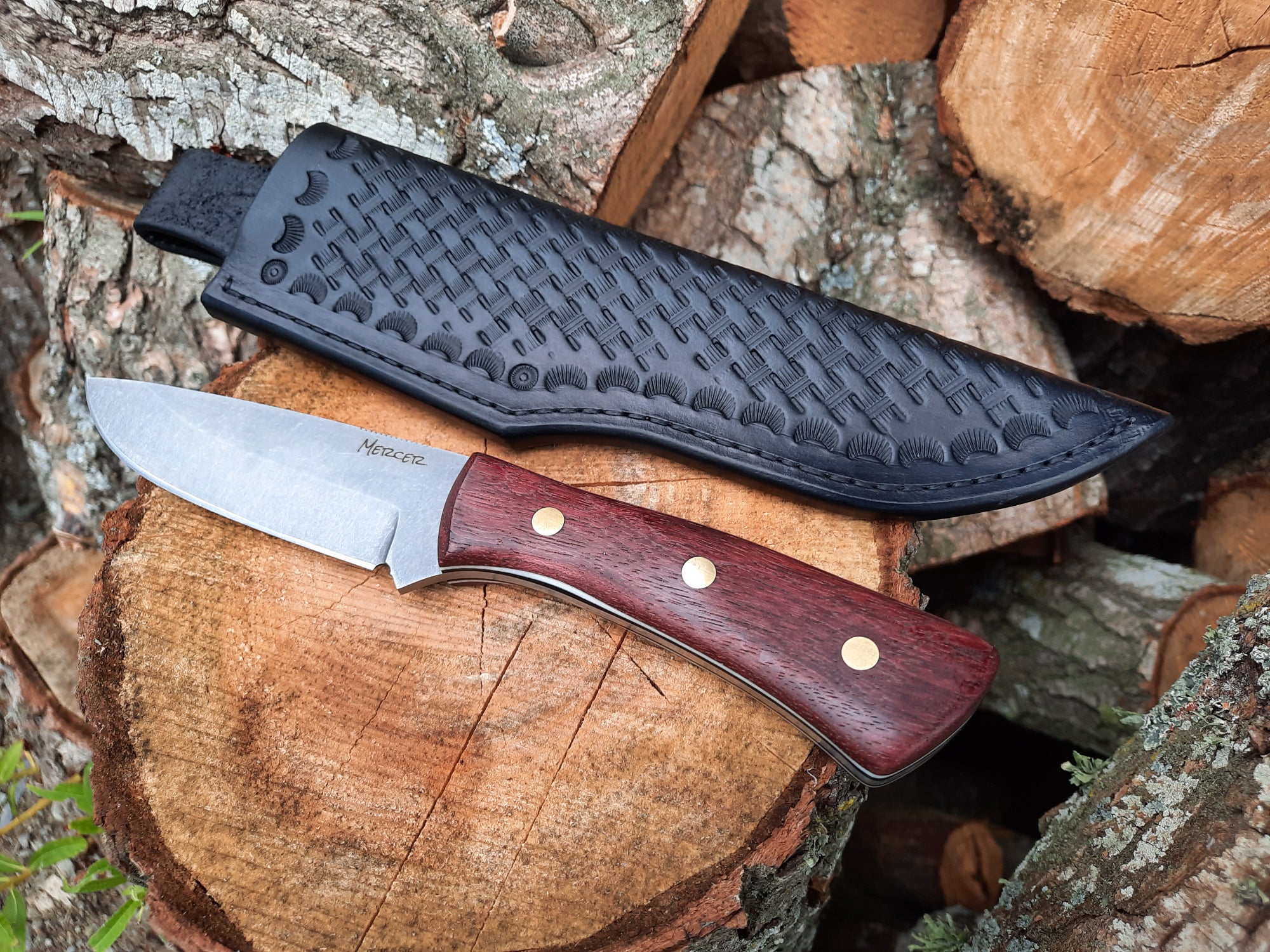 Knife Blade
The blade material is 1084 high carbon steel, made via stock removal, with an acid etch and stonewash finish.  Half height flat grind with sharpening choil.
A stonewashed finish provides a less reflective nature than satin finished blade, and a bit more durability to the finish for a working knife.
Handle Material
The handle is crafted from Purpleheart, with black and white G10 liners and brass pins.  It is contoured nicely to fit in the palm of the hand.
G-10 (or garolite) is a high-pressure fiberglass laminate, a type of composite material. It is created by stacking multiple layers of glass cloth, soaked in epoxy resin, then compressing the resulting material under heat until the epoxy cures. It is very dense, lightweight, impervious to water and makes for a very tough and durable handle material. 
Purpleheart is a South American hardwood and originates from the Peltogyne genus of 23 species of large trees that can be found growing natively on the territory between Mexico and Brazil. It is best known for its amazing grain pattern and a unique colour that can rarely be found in other wood types.
Image - Purpleheart timber
The timber is extremely dense, water-resistant, has excellent strength and is rated to be very durable. It has a deep purple-violet colour when freshly cut, maturing to dark brown (and will age from purple to brown to a driftwood grey if left to weather).
Sheath
The sheath was handcrafted specifically for this knife. It is a vegetable tanned leather, dyed black, stamped with a basket weave and the Mercer "M" logo.
View more of this knife in the slideshow below. 
Click the arrow button on the left and right sides of the image to manually control the carousel.